BOOK FORMAT
Hardcover, 8 x 10 in. / 230 pgs / 100 color.
PUBLISHING STATUS
Pub Date 1/26/2016
Active
DISTRIBUTION
D.A.P. Exclusive
Catalog: FALL 2015 p. 147
PRODUCT DETAILS
ISBN 9780916365899 TRADE
List Price: $49.95 CDN $67.50 GBP £44.99
AVAILABILITY
In stock
TERRITORY
WORLD
EXHIBITION SCHEDULE
Trinidad and Tobago
Trinidad and Tobago Film Festival, 09/15/14-09/29/15

New Orleans, LA
Contemporary Art Center, 03/07/15-06/07/15

Grand Cayman
National Gallery of the Cayman Islands, 11/12/15-01/22/16

Nassau, Bahamas
National Gallery of the Bahamas, 03/17/16-06/12/16
THE FALL 2023 ARTBOOK | D.A.P. CATALOG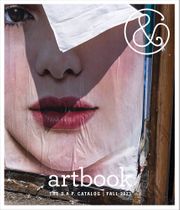 Preview our Fall 2023 catalog, featuring more than 500 new books on art, photography, design, architecture, film, music and visual culture.
&nbsp
&nbsp
EN MAS'

Carnival and Performance Art of the Caribbean

Edited by Claire Tancons, Krista Thompson. Foreword by Neil Barclay, Renaud Proch. Text by D. Eric Bookhardt, Petrina Dacres, Paul Goodwin, Shannon Jackson, Erica Moiah James, Nicholas Laughlin, Thomas J. Lax, Alanna Lockward, Kobena Mercer, Annie Paul, Claire Tancons, Krista Thompson, Yolande-Salomé Toumson.


EN MAS' is one of the first publications to give serious scholarly attention to contemporary art works considering carnival in the 21st century, filling a gap in two decades of exhibitions of contemporary Caribbean art that did not explicitly address carnival as an artistic practice. A hybrid exhibition catalogue and academic reader with a lively carnivalesque feel, it presents nine newly commissioned artist projects by John Beadle, Charles Campbell, Christophe Chassol, Nicolás Dumit Estévez, Marlon Griffith, Hew Locke, Ebony G. Patterson, Lorraine O'Grady and Cauleen Smith. The book also includes a timeline of diasporic pan-Caribbean carnivals, tracing the influence of Caribbean carnivals and festivals on the theater, dance, and Broadway stages in New York and London, in contemporary art galleries and biennials from São Paulo to Havana to Gwangju, at the Olympics as well as in protest and other movements.


Featured image is reproduced from EN MAS'.

Free Shipping

UPS GROUND IN THE CONTINENTAL U.S.
FOR CONSUMER ONLINE ORDERS

SPECTOR BOOKS

ISBN: 9783959057288
USD $35.00

| CAN $50

Pub Date: 3/5/2024
Forthcoming




FONDAZIONE PRADA

ISBN: 9788887029857
USD $85.00

| CAN $125

Pub Date: 11/21/2023
Forthcoming




MOUSSE PUBLISHING

ISBN: 9788867495917
USD $29.95

| CAN $43.95

Pub Date: 12/5/2023
Forthcoming




MOUSSE PUBLISHING

ISBN: 9788867495771
USD $30.00

| CAN $44

Pub Date: 12/5/2023
Forthcoming




MARSILIO ARTE

ISBN: 9791254631331
USD $45.00

| CAN $65

UK &pound 36

Pub Date: 10/31/2023
Forthcoming




DELMONICO BOOKS/HAMMER MUSEUM

ISBN: 9781636810874
USD $50.00

| CAN $73

UK &pound 42

Pub Date: 10/31/2023
Forthcoming




HATJE CANTZ

ISBN: 9783775754446
USD $62.00

| CAN $88

Pub Date: 10/10/2023
Active | In stock




VERLAG FüR MODERNE KUNST

ISBN: 9783903439658
USD $20.00

| CAN $29

Pub Date: 11/21/2023
Forthcoming




MOUSSE PUBLISHING

ISBN: 9788867495542
USD $29.95

| CAN $42.95

Pub Date: 11/7/2023
Forthcoming




HOLZWARTH PUBLICATIONS

ISBN: 9783947127405
USD $50.00

| CAN $72.5

Pub Date: 9/5/2023
Active | Out of stock




HAYWARD GALLERY PUBLISHING

ISBN: 9781853323768
USD $40.00

| CAN $58

Pub Date: 9/26/2023
Active | In stock




HATJE CANTZ

ISBN: 9783775754675
USD $62.00

| CAN $89

Pub Date: 9/19/2023
Active | In stock