BOOK FORMAT
DVD video, PAL Multizone, 5.5 x 7.5 in.
PUBLISHING STATUS
Pub Date 7/1/2007
Active
DISTRIBUTION
D.A.P. Exclusive
Catalog: FALL 2007 p. 129
PRODUCT DETAILS
ISBN 9783905770582 TRADE
List Price: $32.00 CDN $42.50
AVAILABILITY
In stock
EXHIBITION SCHEDULE
London, Tate Modern, 15.2.07 -

New York, MoMA - Museum of Modern Art, 2006

Long Island City, P.S.1 Contemporary Art Center, 2006

Los Angeles, Los Angeles County Museum of Art - LACMA, 2006
THE FALL 2023 ARTBOOK | D.A.P. CATALOG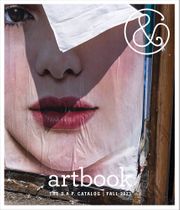 Preview our Fall 2023 catalog, featuring more than 500 new books on art, photography, design, architecture, film, music and visual culture.
&nbsp
&nbsp
The Secret Files of Gilbert & George

Edited by Nicolas Tremblay. By Hans Ulrich Obrist.


For the last 40 years Gilbert & George have united and divided the international art scene with equal parts insolence and elegance. Their oeuvre, with its repeating figures and reprising themes of shit, piss, blood, tears, nudity, sperm, alcohol and drugs, overturned the conventions of the twentieth century and helped to set the agenda for the twenty-first. This 35-minute film produced, hosted and edited by the influential international curator Hans Ulrich Obrist is the first documentary to follow Gilbert & George inside their creative process, and into their archives and collection. Obrist discovers the couple's intimate life within the interior of their London house, a veritable museum of obsessions. Beyond good and bad, beyond appearances and objects (negatives, books, press cuttings… ), viewers are offered unprecedented insight into the artists' methods and the forms of thinking and categorizing that make up their philosophy on art and life. Gilbert & George met and began their collaboration in 1967 in London; in 1986 they won the Turner Prize; in 2005 they represented the U.K. at the Venice Biennale; from 2007 through 2009, a retrospective of their work will be touring major museums worldwide.


Free Shipping

UPS GROUND IN THE CONTINENTAL U.S.
FOR CONSUMER ONLINE ORDERS

APERTURE

ISBN: 9781597110372
USD $89.95

| CAN $110

Pub Date: 3/1/2007
No longer our product | Not Available




CHARTA

ISBN: 9788881580866
USD $45.00

| CAN $55

Pub Date: 12/2/1996
No longer our product | Not available




MOUSSE PUBLISHING

ISBN: 9788867493425
USD $37.00

| CAN $55

Pub Date: 2/19/2019
Active | In stock




ART ISSUES PRESS

ISBN: 9798987596500
USD $24.95

| CAN $35.95

UK &pound 22

Pub Date: 10/24/2023
Forthcoming




WALTHER KöNIG, KöLN

ISBN: 9783753300092
USD $35.00

| CAN $50.5

Pub Date: 8/8/2023
Forthcoming




VALIZ

ISBN: 9789493246249
USD $28.95

| CAN $41.95

Pub Date: 8/8/2023
Forthcoming




SPECTOR BOOKS

ISBN: 9783959056809
USD $35.00

| CAN $50.5

Pub Date: 8/8/2023
Forthcoming




SPECTOR BOOKS

ISBN: 9783959057080
USD $390.00

| CAN $565

Pub Date: 9/26/2023
Forthcoming




SET MARGINS' PUBLICATIONS

ISBN: 9789083270685
USD $20.00

| CAN $29

Pub Date: 8/1/2023
Forthcoming




PIONEER WORKS PRESS

ISBN: 9781945711190
USD $25.00

| CAN $36

UK &pound 22

Pub Date: 11/7/2023
Forthcoming




ONOMATOPEE PROJECTS

ISBN: 9789493148918
USD $42.00

| CAN $60

Pub Date: 7/25/2023
Forthcoming




MOUSSE PUBLISHING

ISBN: 9788867495597
USD $30.00

| CAN $43.5

Pub Date: 8/15/2023
Forthcoming




VERLAG FüR MODERNE KUNST

ISBN: 9783903439627
USD $30.00

| CAN $43.5

Pub Date: 8/8/2023
Forthcoming




LARS MüLLER PUBLISHERS

ISBN: 9783037787342
USD $40.00

| CAN $58

Pub Date: 1/2/2024
Forthcoming