PUBLISHER


Kunsthaus Bregenz

BOOK FORMAT
Paperback, 9 x 11.25 in. / 136 pgs / 60 color.

PUBLISHING STATUS
Pub Date 1/2/2004
Out of print

DISTRIBUTION
D.A.P. Exclusive
Catalog: FALL 2003

PRODUCT DETAILS
ISBN 9783883757216 SDNR30
List Price: $75.00 CDN $90.00

AVAILABILITY
Not available
THE FALL 2023 ARTBOOK | D.A.P. CATALOG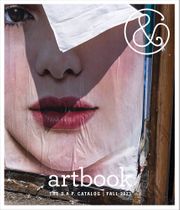 Preview our Fall 2023 catalog, featuring more than 500 new books on art, photography, design, architecture, film, music and visual culture.
&nbsp
&nbsp
KUNSTHAUS BREGENZ

Mariko Mori: Wave Ufo

Artwork by Mariko Mori. Contributions by Tom Eccles. Text by Eckhard Schneider.


Wave UFO believes that human beings as collective living beings shall unify and transcend cultural differences and national borders through positive and creative evolution.
--Mariko Mori
Mariko Mori, the Japanese art superstar known for creating utopian futuristic scenarios that mix elements from Buddhism, Shintoism and Manga culture, here presents her latest and grandest endeavor. Wave UFO is a dynamic sculptural form that hovers on the border between large-scale sculpture and bio-amorphous architecture. A futuristic version of an integral work of art, it offers participants a multi-faceted experience involving physical, mental and aesthetic perception, taking them on a journey to an esoteric cosmos, involving them in the artist's conception of interconnected dream worlds. Inside a capsule that itself rests within a huge architectural sculpture of whale-like proportions, three people can recline in seats for 7 minutes. The images projected on the dome screen above them are generated by an interactive bio-feedback loop that reads the brainwaves of the participants, producing a computer-animated video projection of their own shared spiritual creation. Alluding to the Buddhist vision of Nirvana, Mori's creation of an artistic space for the joining of minds illustrates the concept that all things in this world are interconnected, offering a vision of a "newer" world, a world in which man appears to have overcome all cultural barriers.