BOOK FORMAT
Hardback, 9.5 x 12.75 in. / 300 pgs.
PUBLISHING STATUS
Pub Date 3/1/2007
Active
DISTRIBUTION
D.A.P. Exclusive
Catalog: SPRING 2007 p. 158
PRODUCT DETAILS
ISBN 9783865600905 TRADE
List Price: $75.00 CDN $99.00
AVAILABILITY
Out of stock
TERRITORY
NA LA ASIA AFR
THE FALL 2023 ARTBOOK | D.A.P. CATALOG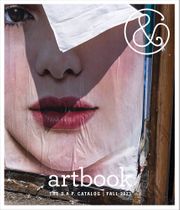 Preview our Fall 2023 catalog, featuring more than 500 new books on art, photography, design, architecture, film, music and visual culture.
&nbsp
&nbsp
Jonathan Meese: Mama Johnny

Edited by Robert Fleck. Text by Yves Aupetitallot, Aeneas Bastian, Robert Fleck, Fabrice Hergott, Vibeke Knudsen, Veit Loers, Friedrich Meschede, Karel Schampers, Susanne Titz.


This collection of paintings, sculptures and collaborations including stage sets for a production of Frank Castorf's Kokain is the first comprehensive survey of Meese's major incursions into the German art scene. The artist was born in Tokyo, lives in Berlin and has shown at the Tate Modern.


STATUS: Out of stock

Temporarily out of stock pending additional inventory.

WALTHER KöNIG, KöLN

ISBN: 9783960980919
USD $39.95

| CAN $53.95

Pub Date: 9/26/2017
Active | In stock




WALTHER KöNIG, KöLN/DAVID NOLAN GALLERY

ISBN: 9783960980452
USD $40.00

| CAN $54

Pub Date: 5/23/2017
Active | In stock




VERLAG FüR MODERNE KUNST

ISBN: 9783903004559
USD $28.00

| CAN $38.5

Pub Date: 9/27/2016
Active | In stock




WALTHER KöNIG, KöLN

ISBN: 9783863354435
USD $49.95

| CAN $67.5

Pub Date: 3/31/2014
Active | Out of stock




WALTHER KöNIG, KöLN

ISBN: 9783863350970
USD $49.95

| CAN $67.5

Pub Date: 8/31/2012
Active | In stock




WALTHER KöNIG, KöLN

ISBN: 9783863350833
USD $59.95

| CAN $79

Pub Date: 8/31/2012
Active | In stock




DUMONT

ISBN: 9783832192198
USD $59.95

| CAN $79

Pub Date: 2/28/2010
Active | In stock




WALTHER KöNIG, KöLN

ISBN: 9783865606303
USD $76.00

| CAN $100

Pub Date: 2/28/2010
Active | Out of stock




WALTHER KöNIG, KöLN

ISBN: 9783865605061
USD $60.00

| CAN $79

Pub Date: 8/31/2009
Active | Out of stock




WALTHER KöNIG/CONTEMPORARY FINE ARTS, BERLIN

ISBN: 9783931355418
USD $325.00

| CAN $435

Pub Date: 3/1/2008
Active | Out of stock




WALTHER KöNIG, KöLN

ISBN: 9783865600905
USD $75.00

| CAN $99

Pub Date: 3/1/2007
Active | Out of stock