BOOK FORMAT
CD ROM.
PUBLISHING STATUS
Pub Date 3/2/2003
Out of print
DISTRIBUTION
D.A.P. Exclusive
Catalog: SPRING 2003
PRODUCT DETAILS
ISBN 9783775791212 TRADE
List Price: $30.00 CDN $35.00
AVAILABILITY
Not available
TERRITORY
NA LA
THE FALL 2023 ARTBOOK | D.A.P. CATALOG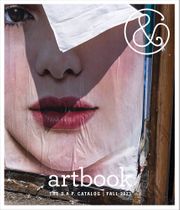 Preview our Fall 2023 catalog, featuring more than 500 new books on art, photography, design, architecture, film, music and visual culture.
&nbsp
&nbsp
Hole In The Wall

Edited by Judith M. Grieshaber. Text by Manfred Kr‡plien.


This book comes right to the point, three pages in: Man becomes stupid and ugly when he is lacking utopian ideas. Thus, the Hole in the Wall means that behind the walls of our conventions a place of freedom is waiting for those who are able and willing to proceed without fear. Seventy-eight young creative spirits do just that in 137 works that break the barricades of clich»s that sometimes stop even the best minds. That is how it is with the designers represented in this book: they love ideas, and their work is fresh and rough, unsmoothed and unplagiarized. The works presented were selected by Professor Judith M. Grieshaber and were created under her instruction in the communication design program at the Konstanz polytechnic university in Germany. Each work is accompanied by a short, to-the-point text, and the accompanying CD-ROM shows an additional series of Internet design projects.


SPECTOR BOOKS

ISBN: 9783959057486
USD $20.00

| CAN $28

Pub Date: 3/5/2024
Forthcoming




SPECTOR BOOKS

ISBN: 9783959057479
USD $20.00

| CAN $28

Pub Date: 3/5/2024
Forthcoming




NAI010 PUBLISHERS

ISBN: 9789462087774
USD $40.00

| CAN $58

Pub Date: 10/3/2023
Active | In stock




RM/MUAC

ISBN: 9788419233417
USD $55.00

| CAN $79

Pub Date: 11/7/2023
Forthcoming




SET MARGINS' PUBLICATIONS

ISBN: 9789083318820
USD $20.00

| CAN $29

Pub Date: 9/5/2023
Active | In stock




SET MARGINS' PUBLICATIONS

ISBN: 9789083270616
USD $15.00

| CAN $21.5

Pub Date: 9/5/2023
Active | In stock




LARS MüLLER PUBLISHERS

ISBN: 9783037787328
USD $35.00

| CAN $50.5

Pub Date: 10/3/2023
Active | In stock




LARS MüLLER PUBLISHERS

ISBN: 9783037787335
USD $50.00

| CAN $72.5

Pub Date: 1/9/2024
Forthcoming




SET MARGINS' PUBLICATIONS

ISBN: 9789083318806
USD $27.00

| CAN $39

Pub Date: 1/9/2024
Forthcoming




SET MARGINS' PUBLICATIONS

ISBN: 9789083270609
USD $20.00

| CAN $29

Pub Date: 9/5/2023
Active | In stock




SET MARGINS' PUBLICATIONS

ISBN: 9789083318837
USD $16.95

| CAN $24.95

Pub Date: 9/5/2023
Active | In stock




SPECTOR BOOKS

ISBN: 9783959056977
USD $50.00

| CAN $72.5

Pub Date: 1/9/2024
Forthcoming