BOOK FORMAT
Clothbound, 8.5 x 9.25 in. / 250 pgs.
PUBLISHING STATUS
Pub Date 12/2/2004
Out of print
DISTRIBUTION
D.A.P. Exclusive
Catalog: FALL 2004
PRODUCT DETAILS
ISBN 9780878466795 TRADE
List Price: $50.00 CDN $60.00
AVAILABILITY
Not available
TERRITORY
WORLD
THE FALL 2023 ARTBOOK | D.A.P. CATALOG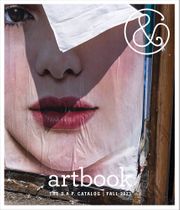 Preview our Fall 2023 catalog, featuring more than 500 new books on art, photography, design, architecture, film, music and visual culture.
&nbsp
&nbsp
Lethal Elegance

Samurai Sword Fittings

Essay by Joe Earle.


As the "soul of the samurai," the sword is famously both the symbol and instrument of Japanese military prowess. Less known, at least in the West, is its role as a fashion accessory or status symbol. And more than the weapon itself, it was the sword's metal fittings--from the hand guard to the small decorative plates on the hilt--that reflected the complexities of samurai life. Some fittings were meant to convey the honor and self-control expected of a samurai while on official duty, while other, more flamboyant ones reflected his leisure-time persona as "man about town." Later, when the wearing of swords spread beyond the samurai class, both the decorative function of the fittings and the variety of their designs sharply increased, leading to some of the most sophisticated and accomplished metalwork ever created. Lethal Elegance presents 150 of these remarkable sword fittings, and is one of the few books in a Western language to focus on the visual presentation, rather than the function or culture of the sword. It discusses the many effects achieved with different alloys, the evolution of fittings in relation to changes in warfare, the symbolism of particular motifs, and standards for connoisseurship. Nearly all these fittings were once owned by trained swordsmen, and the weapons they ornamented could surely inflict fatal wounds. But their extraordinary variety and beauty, lavishly illustrated and carefully presented by Joe Earle, also reveal them as marvels of self-expression and personal style.


WALTHER KöNIG, KöLN/THE NATIONAL MUSEUM OF ART, ARCHITECTURE AND DESIGN, OSLO

ISBN: 9783753303666
USD $40.00

| CAN $58

Pub Date: 11/14/2023
Forthcoming




MARSILIO ARTE

ISBN: 9791254631409
USD $45.00

| CAN $65

UK &pound 36

Pub Date: 1/23/2024
Forthcoming




SKIRA

ISBN: 9788857249544
USD $50.00

| CAN $72.5

Pub Date: 9/26/2023
Active | In stock




NAI010 PUBLISHERS

ISBN: 9789462087736
USD $75.00

| CAN $108.5

Pub Date: 10/3/2023
Active | In stock




MFA PUBLICATIONS, MUSEUM OF FINE ARTS, BOSTON

ISBN: 9780878468935
USD $24.95

| CAN $35.95

UK &pound 22

Pub Date: 10/3/2023
Active | In stock




SKIRA

ISBN: 9788857249285
USD $35.00

| CAN $50.5

Pub Date: 6/6/2023
Active | In stock




SKIRA

ISBN: 9788857248011
USD $45.00

| CAN $63

Pub Date: 4/25/2023
Active | Out of stock




SKIRA

ISBN: 9788857248257
USD $52.00

| CAN $73

Pub Date: 4/25/2023
Active | In stock




SILVANA EDITORIALE

ISBN: 9788836652921
USD $45.00

| CAN $63

Pub Date: 5/30/2023
Active | In stock




MARSILIO ARTE

ISBN: 9791254630624
USD $35.00

| CAN $49

UK &pound 30

Pub Date: 3/14/2023
Active | In stock




MARSILIO ARTE

ISBN: 9791254630891
USD $45.00

| CAN $63

UK &pound 39

Pub Date: 10/3/2023
Active | In stock




HATJE CANTZ

ISBN: 9783775752558
USD $50.00

| CAN $69

Pub Date: 1/3/2023
Active | In stock