Andy Warhol
Museum Exhibition Catalogues, Monographs, Artist's Projects, Curatorial Writings and Essays
MONOGRAPHS & CATALOGS
Andy Warhol in China: The Photographs of Christopher Makos
BLUE KINGFISHER
Hardback, 12 x 16.5 in. / 88 pgs /60 duotone. | 8/1/2008 | Not available
$75.00
Andy Warhol: Ladies & Gentleman, Sex Parts, Torsos, Polaroids
WALTHER KöNIG, KöLN
Paperback, 12.5 x 9.5 in. / 276 pgs / 431 color. | 5/2/2004 | Not available
$70.00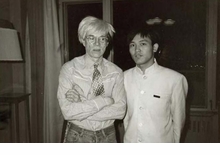 Warhol in China
HATJE CANTZ
Clth, 10.5 x 12.25 in. / 312 pgs / 30 color / 250 duotone. | 2/28/2014 | Not available
$70.00
Published by Hatje Cantz.

Andy Warhol (1928-1987) flew to Beijing (via Hong Kong) in 1982, recording his impressions in brief journal entries while also photographing with his typical fanatical diligence. He encountered a capital virtually untainted by advertising and commerce, but nonetheless on the verge of an enormous transition. Following Mao's death in 1976, an art scene was slowly beginning to emerge in China. Under Mao, art had been deployed mainly as a propaganda tool to communicate government propaganda. By the time of Warhol's visit, new artistic strategies had established themselves. The Political Pop movement, Gaudy Art and "The Stars," a group of younger artists to which Ai Weiwei belonged, were all greatly influenced by Warhol and other protagonists of Pop. For this group, Warhol's classic silkscreen print "Mao" (1972) served as a critical point of departure for their artistic reevaluation of the iconography of communism. Warhol's presence in China electrified Beijing's avant-garde, and his photographs record both his own delight in encountering the city's artists (as well as other sights--he was much impressed by the Great Wall) and their delight in him. These photographs consequently possess both artistic and documentary merit.


BOOK FORMAT
Clth, 10.5 x 12.25 in. / 312 pgs / 30 color / 250 duotone.
PUBLISHING STATUS
Pub Date 2/28/2014
Out of stock indefinitely
DISTRIBUTION
D.A.P. Exclusive
Catalog: FALL 2013 p. 92
PRODUCT DETAILS
ISBN 9783775736626 TRADE
List Price: $70.00 CDN $92.50
AVAILABILITY
Not available
STATUS: Out of stock indefinitely.
Published by Blue Kingfisher.
Foreword by Ai Weiwei. Introduction by Peter Wise. Interview with Christopher Makos.
A documentation of Andy Warhol's 1982 visit to China, this volume offers a unique glimpse of the international pop star by Christopher Makos, his personal photographer. With the advantage of hindsight, this volume becomes complexly ironic--in China in the 80s, almost no one knew who Warhol was. Just a few decades later, in 2006, Warhol's 1972 "Mao" sold for $17.4 million to a Hong Kong real estate tycoon. And Chinese artists have, for years, been incorporating Western pop iconography into their work.
Photographer Christopher Makos became known in the 1970s for his candid shots of Warhol. Henry Geldzahler, the former Curator of Contemporary Art at The Metropolitan Museum of Art in New York has written: "It is a great asset in Chris Makos' photographs that they reveal new and unfamiliar faces of the legendary pop figure..."


PUBLISHER


Blue Kingfisher

BOOK FORMAT
Hardback, 12 x 16.5 in. / 88 pgs /60 duotone.

PUBLISHING STATUS
Pub Date 8/1/2008
No longer our product

DISTRIBUTION
D.A.P. Exclusive
Catalog: FALL 2008 p. 158

PRODUCT DETAILS
ISBN 9789881714480 TRADE
List Price: $75.00 CDN $90.00

AVAILABILITY
Not available
Published by Walther König, Köln.
Essay by Nobuyoshi Araki.
Here you will find over 400 Polaroids by Andy Warhol of street hustlers and call boys engaging in sexual acts and posing as drag queens. The pictures inspired paintings known as the Torso Series but, as Bob Colacello recounts, were known around the office as the Cocks, Cunts, and Assholes Series.


PUBLISHER


Walther König, Köln

BOOK FORMAT
Paperback, 12.5 x 9.5 in. / 276 pgs / 431 color.

PUBLISHING STATUS
Pub Date 5/2/2004
Out of print

DISTRIBUTION
D.A.P. Exclusive
Catalog: FALL 2004

PRODUCT DETAILS
ISBN 9783931354282 SDNR30
List Price: $70.00 CDN $85.00

AVAILABILITY
Not available