Landon Nordeman
Museum Exhibition Catalogues, Monographs, Artist's Projects, Curatorial Writings and Essays
MONOGRAPHS & CATALOGS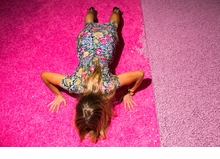 Landon Nordeman: Out of Fashion
DAMIANI
Hbk, 9.25 x 6.25 in. / 128 pgs / 112 color. | 9/27/2016 | In stock
$50.00
Published by Damiani.
Introduction by Elisabeth Biondi.
For the past four years photographer Landon Nordeman (born 1974) has been regularly dispatched by New York Magazine and The New York Times to document the world of fashion. Shooting hundreds of shows backstage in New York, Milan and Paris, Nordeman brings a fresh, joyous and bold perspective to contemporary photography. In the over-photographed digital culture of fashion today, Nordemanís approach cuts through the clutter. He sees photographs where most people donít, and he has gained an enormous following on Instagram for his surprising images, filled with vivid color, complex gestures and funny juxtapositions. Finding the enduring in the ephemeral, Nordeman blurs the line between reality and fiction, document and art, and shows the exclusive world of fashion to itself and to us as never before.

Nordeman's photographs have been exhibited at Howard Greenberg Gallery in New York and the Ullens Center for Contemporary Art in Beijing, among other venues, and are in the collections of The Museum of Fine Arts, Houston, and the Columbus Museum of Art. He lives and works in New York City.


BOOK FORMAT
Hardcover, 9.25 x 6.25 in. / 128 pgs / 112 color.
PUBLISHING STATUS
Pub Date 9/27/2016
Active
DISTRIBUTION
D.A.P. Exclusive
Catalog: FALL 2016 p. 52
PRODUCT DETAILS
ISBN 9788862084963 TRADE
List Price: $50.00 CDN $67.50
AVAILABILITY
In stock
Free Shipping
UPS GROUND IN THE CONTINENTAL U.S.
FOR CONSUMER ONLINE ORDERS