James Moore
Museum Exhibition Catalogues, Monographs, Artist's Projects, Curatorial Writings and Essays
MONOGRAPHS & CATALOGS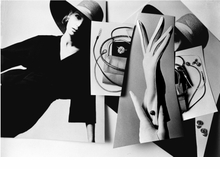 James Moore: Photographs 1962-2006
DAMIANI
Hbk, 9.75 x 12.5 in. / 280 pgs / 40 color / 110 bw. | 4/25/2017 | Out of stock
$75.00
Published by Damiani.
Edited by Nicolas Moore. Text by Martin Harrison, Holly Brubach.
American fashion photographer James Moore (1936–2006) was an influential voice in mid-20th-century fashion photography, working for Harper's Bazaar during its 1960s heyday under the leadership of legendary editor Carmel Snow. Shooting languid mod gamines and luxe bohemians in arresting, often surreal or cinematic compositions, Moore helped shape the visual vocabulary of '60s fashion alongside better-known colleagues such as art director Alexey Brodovitch (under whom Moore studied). Moore also directed television commercials and contributed photographs to European magazines in the 1980s and 1990s, and taught photography at the School of Visual Arts, New York, and the Rochester Institute of Technology.

Every Moore photograph is an intricate exploration of space and beauty, with an attention to detail that betrays the photographer's peerless eye. Something of a "photographer's photographer," Moore influenced the next generation of great fashion photographers but has been somewhat neglected in histories of 1960s fashion and culture--until now. James Moore: Photographs 1962-2006 collects a half century of extraordinary photographs by Moore, the first time his work has been collected in a single monograph. Including texts from the leading editors, models, photographers and designers of the day, this volume takes stock of James Moore's astounding career and an extraordinary cultural moment.


BOOK FORMAT
Hardcover, 9.75 x 12.5 in. / 280 pgs / 40 color / 110 bw.
PUBLISHING STATUS
Pub Date 4/25/2017
Active
DISTRIBUTION
D.A.P. Exclusive
Catalog: FALL 2016 p. 52
PRODUCT DETAILS
ISBN 9788862084949 TRADE
List Price: $75.00 CDN $99.00
AVAILABILITY
Out of stock
STATUS: Out of stock
Temporarily out of stock pending additional inventory.