Mario Garc'a Joya
Museum Exhibition Catalogues, Monographs, Artist's Projects, Curatorial Writings and Essays
MONOGRAPHS & CATALOGS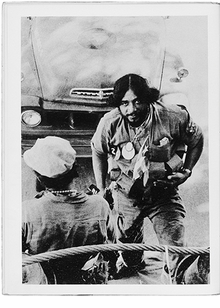 Mario García Joya: A la plaza con Fidel
ERRATA EDITIONS
Hbk, 7.25 x 9.75 in. / 80 pgs / 50 duotone. | 3/28/2017 | Not available
$39.95
Books on Books No. 21
Published by Errata Editions.
Text by Leandro Villaro, Mario García Joya.
A la plaza con Fidel (To the plaza with Fidel) is doubly rare among Cuban photobooks: relatively few photobooks were produced in Cuba after the Revolution, and A la plaza con Fidel is also notable for its unique subject matter. Photographed between 1959 and 1966 and published in 1970 by leading Cuban photographer and cinematographer "Mayito" (Mario García Joya, born 1938), the book focuses on Fidel Castro's supporters and the festive atmosphere of the Revolution. Castro would mark important moments of the Revolution, when either revelry or reassurance was called for, with public addresses delivered in Havana's Plaza de la Revolución; "to the plaza with Fidel" became a refrain of the Revolution.

The 21st volume in Errata Editions' Books on Books series, this edition of A la plaza con Fidel presents this little-known book in its entirety, with essays by photography curator Leandro Villaro.


PUBLISHER


Errata Editions

BOOK FORMAT
Hardcover, 7.25 x 9.75 in. / 80 pgs / 50 duotone.

PUBLISHING STATUS
Pub Date 3/28/2017
Out of print

DISTRIBUTION
D.A.P. Exclusive
Catalog: FALL 2016 p. 37

PRODUCT DETAILS
ISBN 9781935004400 SDNR60
List Price: $39.95 CDN $53.95

AVAILABILITY
Not available