Nick Haymes
Museum Exhibition Catalogues, Monographs, Artist's Projects, Curatorial Writings and Essays
MONOGRAPHS & CATALOGS
Nick Haymes: Between Dog and Wolf
NIEVES
Hardback, 7.75 x 10.25 in. / 32 pgs / 32 color. | 7/1/2007 | Not available
$24.00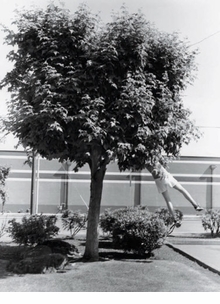 Nick Haymes: GABEtm
DAMIANI
Hbk, 8.75 x 11 in. / 128 pgs / illustrated throughout. | 2/29/2012 | Not available
$40.00
Published by Damiani.
Introduction by Gus Van Sant.
Nick Haymes first met Gabe Nevins on an editorial assignment in the summer of 2007. Gabe had just wrapped up his lead role in Gus Van Sant's Paranoid Park, in which he had played a teenage skateboarder who accidentally kills a security guard. Gabe had never acted prior to starring in the film; he had heard about Van Sant's casting call from a skateboard store and initially auditioned as an extra. Meeting the teenager, Haymes recalls: "Initially, Gabe was fairly shy, but it quickly transpired that he had seen some of my skateboarding images online and an instant friendship was struck. When the assignment was over, I approached Gabe about the possibility of working on more photographs as there was something entirely captivating about him and his energy." This volume tracks the highs and lows of Gabe's teen years, from stardom to emotional breakdown and homelessness.


BOOK FORMAT
Hardcover, 8.75 x 11 in. / 128 pgs / illustrated throughout.
PUBLISHING STATUS
Pub Date 2/29/2012
Out of stock indefinitely
DISTRIBUTION
D.A.P. Exclusive
Catalog: SPRING 2012 p. 68
PRODUCT DETAILS
ISBN 9788862081917 TRADE
List Price: $40.00 CDN $54.00
AVAILABILITY
Not available
STATUS: Out of stock indefinitely.
Published by Nieves.

Nick Haymes' photography often explores the artist's role in and relationship with his family. This first small monograph finds him traveling with an extended family of young skateboarders. Between Dog and Wolf depicts--beyond their adventures and misadventures on wheels--their joy in living, in making out and hanging out. Haymes, who was born in England in 1969, observes his young subjects with a mix of friendly and almost fatherly care, documenting a delicate stage of life with equal attention to its dark moments and its blissful ones, in a raw and distinctive style that looks exceptionally closely. The artist has lived in New York since 2000, where he has worked with many widely respected magazines including i-D, Dazed & Confused, The Face, Vogue, TeenVogue, Another Magazine, Arena, Capricious and The Journal.


PUBLISHER


Nieves

BOOK FORMAT
Hardback, 7.75 x 10.25 in. / 32 pgs / 32 color.

PUBLISHING STATUS
Pub Date 7/1/2007
Out of print

DISTRIBUTION
D.A.P. Exclusive
Catalog: FALL 2007 p. 120

PRODUCT DETAILS
ISBN 9783905714210 TRADE
List Price: $24.00 CDN $27.50

AVAILABILITY
Not available