Todd Gray
Museum Exhibition Catalogues, Monographs, Artist's Projects, Curatorial Writings and Essays
MONOGRAPHS & CATALOGS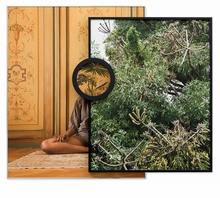 Todd Gray: Euclidean Gris Gris
POMONA COLLEGE MUSEUM OF ART
Photographic critiques of colonialismís legacies, from a leading interrogator of cultural iconography
Hbk, 8 x 9.75 in. / 188 pgs / 115 color. | 2/18/2020 | In stock
$45.00
Published by Pomona College Museum of Art.
Edited with introduction by Rebecca McGrew. Introduction by Hannah Grossman. Text by Todd Gray, Nana Adusei-Poku, M. Neelika Jayawardane, Carrie Mae Weems.
This is the most comprehensive publication to date of the multimedia works of American artist Todd Gray (born 1954). Superbly produced, with a two-piece foil-stamped cover, beautiful endpapers and an insert documenting a yearlong series of events inspired by Grayís work, Euclidean Gris Gris features a selection of recent photographic works derived from his exploration of the legacies of colonialism in Africa and several other seminal works.

Based in Los Angeles and Ghana, Gray is best known for photography, performance and sculpture that address histories of power in relationship to the African Diaspora. In the new works featured in the catalog, Gray combines photographs from his archive, which he has assembled over decades, including his pictures of individuals and rural scenes in South Africa and Ghana, formal gardens of imperial Europe, constellations and galaxies, and images of musicians, such as Michael Jackson and Stevie Wonder. The volume also includes a conversation between Gray and the artist Carrie Mae Weems.
PUBLISHER


Pomona College Museum of Art

BOOK FORMAT
Hardcover, 8 x 9.75 in. / 188 pgs / 115 color.

PUBLISHING STATUS
Pub Date 2/18/2020
Active

DISTRIBUTION
D.A.P. Exclusive
Catalog: SPRING 2020 p. 123

PRODUCT DETAILS
ISBN 9780997930603 TRADE
List Price: $45.00 CDN $63.00 GBP £40.00

AVAILABILITY
In stock

Free Shipping

UPS GROUND IN THE CONTINENTAL U.S.
FOR CONSUMER ONLINE ORDERS