Chris Floyd
Museum Exhibition Catalogues, Monographs, Artist's Projects, Curatorial Writings and Essays
MONOGRAPHS & CATALOGS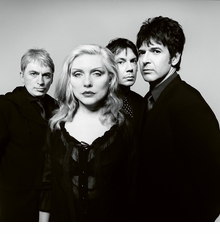 Chris Floyd: Not Just Pictures
REEL ART PRESS
Celebrity portraiture from the acclaimed British photographer and author, with David Bowie, Cate Blanchett, Iggy Pop and more
Hbk, 10 x 12.5 in. / 320 pgs / 300 color / 150 duotone / 150 bw. | 10/25/2022 | In stock
$69.95
The Verve: Photographs by Chris Floyd
REEL ART PRESS
Hbk, 9 x 10.75 in. / 144 pgs / 100 color / 45 bw. | 10/24/2017 | Not available
$39.95
Published by Reel Art Press.
Text by Chris Floyd.
This coffee table volume is the first monograph dedicated to British photographer Chris Floyd's (born 1968) 30-year career. Featuring over 200 photographs, it includes his sessions with Paul McCartney, David Attenborough, Debbie Harry, David Hockney, David Bowie, Marcus Rashford, Cate Blanchett, Oasis, Iggy Pop and many more. The photographs are accompanied by a collection of stories that paint a broader and sometimes funnier picture of his oeuvre.
"For a long time people have told me how much they love reading what I write, as much as looking at the photographs I produce, and that they would love to own a book of this work and these tales," he writes. "After nearly 30 years in the game, perhaps now is the time to parlay the most interesting, funny, odd, disturbing, confrontational, collaborative and life affirming photographic moments."
BOOK FORMAT
Hardcover, 10 x 12.5 in. / 320 pgs / 300 color / 150 duotone / 150 bw.
PUBLISHING STATUS
Pub Date 10/25/2022
Active
DISTRIBUTION
D.A.P. Exclusive
Catalog: FALL 2022 p. 101
PRODUCT DETAILS
ISBN 9781909526860 TRADE
List Price: $69.95 CDN $97.95
AVAILABILITY
In stock
Free Shipping
UPS GROUND IN THE CONTINENTAL U.S.
FOR CONSUMER ONLINE ORDERS
Published by Reel Art Press.
Edited by Dave Brolan. Foreword by Michael Holden. Introduction by Chris Floyd.
It has been 20 years since the colossal global success of The Verve's era-defining Urban Hymns, and it remains one of the biggest-selling British albums of all time. Photographer Chris Floyd was embedded with the band during their meteoric rise from late 1996 to 1997. He documented the recording, touring and promoting of the album in Britain, Ireland and the US—the only photographer to have such access. This is the first time his photographs from that period have been published, with most completely unseen.
The book is also a celebration of what it meant to be young in the last moments of societal unself-awareness, before the explosion of the internet and social media, and it includes a section dedicated to people's memories of 1997. Chris reflects: "for a while it felt like being at the center of the universe.… We were in a brief golden era, when it looked like the world was unshackling itself and beginning to develop a more advanced and progressive attitude. We seemed to be in a decade that had taken a holiday from history. I am grateful and thankful that I got to live out my twenties in such a fertile, peaceful and creative period." Michael Holden writes in his introduction: "Those years, it turns out, were the twilight of analogue consciousness and certain seeming certainties about the world at large. Whatever we are now, we were not then. This isn't just the everyday past we're looking at, but another planet."
BOOK FORMAT
Hardcover, 9 x 10.75 in. / 144 pgs / 100 color / 45 bw.
PUBLISHING STATUS
Pub Date 10/24/2017
Out of print
DISTRIBUTION
D.A.P. Exclusive
Catalog: SPRING 2018 p. 70
PRODUCT DETAILS
ISBN 9781909526532 TRADE
List Price: $39.95 CDN $53.95
AVAILABILITY
Not available