Andrea Ferrari
Museum Exhibition Catalogues, Monographs, Artist's Projects, Curatorial Writings and Essays
MONOGRAPHS & CATALOGS
Andrea Ferrari: Wild Window
STEIDL
Clth, 7 x 9.75 in. / 104 pgs / 71 color / 8 bw. | 2/6/2024 | Awaiting stock
$40.00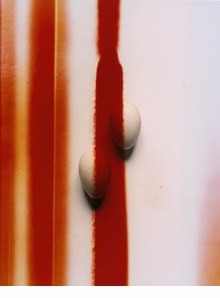 Andrea Ferrari: By Means of the Sun
STEIDL
A photographer's compilation of the rich materiality of science photography
Slip, pbk, 8.75 x 11 in. / 96 pgs / 45 color / 12 bw. | 6/27/2023 | Awaiting stock
$45.00
Published by Steidl.

Wild Window is Italian photographer Andrea Ferrari's (born 1970) personal cabinet of curiosities, a collection of photos of taxidermy animals, shells, eggs and coral that explores the gaze as a universal trait shared by both humans and animals.

In its format and design, Wild Window recalls a naturalist's notebook, full of wonderful creatures observed on an imaginary journey to exotic lands. The book thus shows our age-old desire to record and classify nature, as well our passion for reliving it through studying specimens of flora and fauna. Yet Ferrari's vision is far from impersonal or scientific. He arranges his photos in a loose grid rich with ambivalence and associations, and colors many images a soft, muted pink that references the familiar hue of human skin. In Ferrari's hands, nature is an interaction where creatures observe us as we observe them, and we weave intuitive narrative connections between all that we see.


BOOK FORMAT
Clth, 7 x 9.75 in. / 104 pgs / 71 color / 8 bw.
PUBLISHING STATUS
Pub Date 2/6/2024
Forthcoming
DISTRIBUTION
D.A.P. Exclusive
Catalog: SPRING 2017 p. 134
PRODUCT DETAILS
ISBN 9783958292697 TRADE
List Price: $40.00 CDN $54.00
AVAILABILITY
Awaiting stock
STATUS: Forthcoming | 2/6/2024
This title is not yet published in the U.S. To pre-order or receive notice when the book is available, please email orders @ artbook.com
Published by Steidl.
Edited by Andrea Ferrari, Maria Paolini. Text by Simone Menegoi.
Andrea Ferrari's (born 1970) new book By Means of the Sun compiles analogue and digital images taken or simply selected by Ferrari, that were made for scientific or creative purposes, and were produced by a camera or by direct chemical modification of the film, as well as drawings that, through the mediation of the lens, themselves turn into photographs.

This book deftly reflects the current state of photography, one that is postdigital and postmodern, omnivorous and protean. Beginning with the work of William Henry Fox Talbot, to whom this project is dedicated, Ferrari's wide-ranging sequence of images touches on themes as vast as the beginnings of photography and the origin of the world, drawing as a link between image and writing, and the egg as an archetypal form.
BOOK FORMAT
Slip, pbk, 8.75 x 11 in. / 96 pgs / 45 color / 12 bw.
PUBLISHING STATUS
Pub Date 6/27/2023
Forthcoming
DISTRIBUTION
D.A.P. Exclusive
Catalog: SPRING 2022 p. 24
PRODUCT DETAILS
ISBN 9783958299634 TRADE
List Price: $45.00 CDN $61.50
AVAILABILITY
Awaiting stock
STATUS: Forthcoming | 6/27/2023
This title is not yet published in the U.S. To pre-order or receive notice when the book is available, please email orders @ artbook.com