RaphaŽl Dallaporta
Museum Exhibition Catalogues, Monographs, Artist's Projects, Curatorial Writings and Essays
MONOGRAPHS & CATALOGS
RaphaŽl Dallaporta: Antipersonnel
EDITIONS XAVIER BARRAL/MUSťE DE L'ELYSťE LAUSANNE
Clth, 9.5 x 12.5 in. / 88 pgs / 35 color. | 2/28/2011 | In stock
$55.00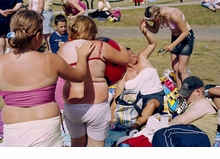 Martin Parr: Think of Scotland
DAMIANI
The visual iconography of ScotlandóHighland games, stunning landscapes, bagpipersótransformed by Parr into the outlandish and unfamiliar
Hbk, 9.5 x 12.5 in. / 144 pgs / 100 color. | 11/21/2017 | In stock
$40.00
Martin Parr: Think of Scotland
DAMIANI
Special edition, 9.5 x 12.5 in. / 144 pgs / 101 color. | 11/21/2017 | Not available
$500.00
Limited Edition
Published by Damiani.

This limited edition of 50 copies includes a print numbered and signed by Martin Parr. The image is titled "Gourock Lido, 2004," and features the Gourock Outdoor Pool, a saltwater public lido in Renfrewshire, Scotland.
BOOK FORMAT
Special edition, 9.5 x 12.5 in. / 144 pgs / 101 color.
PUBLISHING STATUS
Pub Date 11/21/2017
Out of stock indefinitely
DISTRIBUTION
D.A.P. Exclusive
Catalog: FALL 2017 p. 50
PRODUCT DETAILS
ISBN 9788862085519 SDNR20
List Price: $500.00 CDN $665.00
AVAILABILITY
Not available
STATUS: Out of stock indefinitely.
Published by Damiani.

Martin Parr has been taking photographs of Scotland for more than 25 years. From tourists on the rainy streets of Edinburgh to agricultural shows in Orkney and the Outer Hebrides, Parr approached Scotland with his inimitable eye, building up a huge archive of photographs in the process. Wry and affectionate, simultaneously attuned to local color and the universality of human eccentricity, Parrís photographic vision finds the magnificent absurdity in everyday life.
Though Parr is a prolific creator of photobooks, his archive of Scottish images has remained largely unpublished; in fact, his Scottish photographs represent his largest unpublished body of work to date. Martin Parr: Think of Scotland collects these images together for the first time on the occasion of his solo exhibition at the newly reopened Aberdeen Art Gallery. In Think of Scotland, readers can find the expected visual iconography of Scotlandóthe Highland Games, the stunning landscapes, the bagpipersóbut all given that unique Parr twist that transforms the expected and the banal into something outlandish and unfamiliar.
British photojournalist and collector Martin Parr (born 1952) knew he wanted to become a documentary photographer from the time he was 14 years old. His interest in photography was piqued by his grandfather, who was also a photographer. Parr studied photography at Manchester Polytechnic from 1970 to 1973 and began his career as a professional photographer in the mid-1970s, becoming a full member of the Magnum Photographic Cooperative in 1994.
BOOK FORMAT
Hardcover, 9.5 x 12.5 in. / 144 pgs / 100 color.
PUBLISHING STATUS
Pub Date 11/21/2017
Active
DISTRIBUTION
D.A.P. Exclusive
Catalog: FALL 2017 p. 50
PRODUCT DETAILS
ISBN 9788862085496 TRADE
List Price: $40.00 CDN $54.00
AVAILABILITY
In stock
Free Shipping
UPS GROUND IN THE CONTINENTAL U.S.
FOR CONSUMER ONLINE ORDERS
Published by Editions Xavier Barral/Musťe de l'Elysťe Lausanne.
Introduction by Sam Stourdzť. Foreword by Martin Parr. Text by Philippe Houliat. Afterword by Jody Williams.
Staged and photographed as though they were perfume bottles or jewelry, RaphaŽl Dallaporta's images of antipersonnel mines transport these malignant entities far from their customary context and function, refusing easy sensationalism in favor of a more disturbing, insinuating depiction.


BOOK FORMAT
Clth, 9.5 x 12.5 in. / 88 pgs / 35 color.
PUBLISHING STATUS
Pub Date 2/28/2011
Active
DISTRIBUTION
D.A.P. Exclusive
Catalog: SPRING 2011 p. 165
PRODUCT DETAILS
ISBN 9782915173680 TRADE
List Price: $55.00 CDN $72.50
AVAILABILITY
In stock
Free Shipping
UPS GROUND IN THE CONTINENTAL U.S.
FOR CONSUMER ONLINE ORDERS