James Abbott McNeill Whistler
Museum Exhibition Catalogues, Monographs, Artist's Projects, Curatorial Writings and Essays
MONOGRAPHS & CATALOGS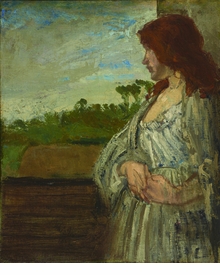 Whistler and the World
COLBY COLLEGE MUSEUM OF ART
Hbk, 9 x 12 in. / 320 pgs / 345 color. | 11/24/2015 | In stock
$50.00
Whistler: Streetscapes, Urban Change
DELMONICO BOOKS/COLBY COLLEGE MUSEUM OF ART/NATIONAL MUSEUM OF ASIAN ART
An in-depth look at Whistler's city streets and storefronts, addressing the phenomena of urbanization and gentrification, past and present
Hbk, 9 x 10.25 in. / 128 pgs / 90 color. | 8/15/2023 | Awaiting stock
$40.00
Published by DelMonico Books/Colby College Museum of Art/National Museum of Asian Art.
Text by David Park Curry.
James McNeill Whistler (1834–1903) created hundreds of works that depicted urban contexts undergoing rapid transformation. This handsome volume sheds new light on his picturesque representations of London's shifting urban landscape during the Victorian era. Despite Whistler's aversion to overtly political themes, his artworks reveal a long-term engagement with social change. Properties for the newly rich replaced historic buildings and shops, forcing many into squalid conditions. The images featured here, primarily drawn from the permanent collections of the Colby College Museum of Art and the National Museum of Asian Art, bear witness to the uncertainties of modern metropolitan life that Whistler saw firsthand. However, his streetscapes also reflect the modern practice of "artwashing," wherein the negative consequences of gentrification are hidden by aesthetic screens. This book asks the reader to consider the intention and function of these engaging images: to memorialize the new struggles of the urban poor or to romanticize poverty for a rising middle-class art market.
BOOK FORMAT
Hardcover, 9 x 10.25 in. / 128 pgs / 90 color.
PUBLISHING STATUS
Pub Date 8/15/2023
Forthcoming
DISTRIBUTION
D.A.P. Exclusive
Catalog: SPRING 2023 p. 44
PRODUCT DETAILS
ISBN 9781636810942 TRADE
List Price: $40.00 CDN $56.00 GBP £34.00
AVAILABILITY
Awaiting stock
STATUS: Forthcoming | 8/15/2023
This title is not yet published in the U.S. To pre-order or receive notice when the book is available, please email orders @ artbook.com
The Lunder Collection of James McNeill Whistler
Published by Colby College Museum of Art.
Edited and introduction by Justin McCann. Foreword by Sharon Corwin. Text by Magdalen Abe, Maria Bowe, Sarah Burns, Elizabeth Finch, Maya E. Foo, Lee Glazer, Lauren Lessing, Margaret F. MacDonald, Catherine Maguire, Kirsten Marples, Justin McCann, Linda Merrill, Ramey Mize, Kenneth John Myers, Caroline Pelham, Josephine Rodgers, John Siewert, Tanya Sheehan, Francesca Soriano, Martha Tedeschi, Diana Tuite, Veronica Vesnaver, Marina Wells.
In his "Ten O'Clock Lecture" in 1885, American James McNeill Whistler (1834-1903) presented himself as an artist set apart from the public, bearing no relation to the historical moment in which he lived. However, the myth of artistic independence that Whistler developed was but one part of a complex and highly significant relationship he had with the world around him. As a painter, printmaker, designer, traveler and performer, Whistler engaged with a variety of places, people and ideas that stretched from the United States to London, Venice and Japan.
Drawn entirely from the renowned Lunder Collection, this comprehensive catalogue places Whistler in a dynamic international and cosmopolitan context, and includes the finest examples of his prints. The 24 essays included in the catalogue explore how Whistler transferred his immediate surroundings into a "realm of art," while he, in turn, was shaped by the encounters he had traversing the global art worlds of the 19th century.


PUBLISHER


Colby College Museum of Art

BOOK FORMAT
Hardcover, 9 x 12 in. / 320 pgs / 345 color.

PUBLISHING STATUS
Pub Date 11/24/2015
Active

DISTRIBUTION
D.A.P. Exclusive
Catalog: FALL 2015 p. 150

PRODUCT DETAILS
ISBN 9780972848411 TRADE
List Price: $50.00 CDN $67.50 GBP £45.00

AVAILABILITY
In stock

Free Shipping

UPS GROUND IN THE CONTINENTAL U.S.
FOR CONSUMER ONLINE ORDERS