Yves Tanguy
Museum Exhibition Catalogues, Monographs, Artist's Projects, Curatorial Writings and Essays
"The forms in Tanguy's mature Parisian paintings, unlike those in many of his subsequent American works, are almost always scattered across wide-open foreground spaces in the lower half of the composition. Consequently, the viewer has a panoramic view of the entire pictorial space and easy visual entry into it. There is no sense of containment; the forms rarely encroach upon the viewer or deny access to the space beyond."
Jonathan Stuhlman, excerpted from Double Solitaire: Kay Sage's Influence on Yves Tanguy in Double Solitaire: The Surreal Worlds of Kay Sage and Yves Tanguy.
MONOGRAPHS & CATALOGS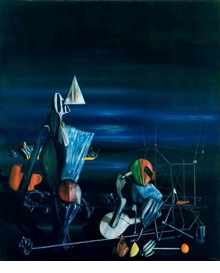 Yves Tanguy & Alexander Calder: Between Surrealism and Abstraction
L&M ARTS
Hbk, 9.5 x 11.5 in. / 180 pgs / illustrated throughout. | 7/31/2010 | Not available
$75.00
Double Solitaire: The Surreal Worlds of Kay Sage and Yves Tanguy
THE KATONAH MUSEUM OF ART/THE MINT MUSEUM
Flexi, 8 x 11 in. / 104 pgs / 69 color / 19 bw. | 8/31/2011 | Not available
$40.00
Published by The Katonah Museum of Art/The Mint Museum.
Text by Stephen Robeson Miller, Jonathan Stuhlman.
Yves Tanguy and Kay Sage were two of Surrealism's leading painters, who together elaborated de Chirico's world of isolate and obdurate forms into eerie landscapes sparsely populated with biomorphic life forms. Here, for the first time, the work of this dynamic couple is explored in depth. An essay by Stephen Robeson Miller examines the intersection of Sage's and Tanguy's biographies with their work, accurately recounting for the first time Sage's conversion to Surrealism. A second essay by Jonathan Stuhlman traces the ways in which Sage's art influenced Tanguy's. These essays are accompanied by color plates containing several previously unreproduced works and photographs.


PUBLISHER


The Katonah Museum of Art/The Mint Museum

BOOK FORMAT
Flexi, 8 x 11 in. / 104 pgs / 69 color / 19 bw.

PUBLISHING STATUS
Pub Date 8/31/2011
Out of print

DISTRIBUTION
D.A.P. Exclusive
Catalog: FALL 2011 p. 70

PRODUCT DETAILS
ISBN 9780983194217 TRADE
List Price: $40.00 CDN $50.00

AVAILABILITY
Not available
Published by L&M Arts.
Text by Susan Davidson.
In 1942, at the opening of her Art of This Century gallery, Peggy Guggenheim famously demonstrated her equability toward both Surrealist and abstract art by wearing one earring made by Surrealist painter Yves Tanguy and one by abstract sculptor and kinetic artist Alexander Calder. Yet the opposition implied by this act of truce-making perhaps overstates the antimonies between these two modernist masters. Tanguy and Calder shared many friends in Surrealist circles in Paris, and showed work in the same exhibitions throughout the middle of the century. In this beautiful volume, full of color reproductions and important ephemera relating to the artists' shared history, Susan Davidson, Senior Curator of collections and exhibitions at the Guggenheim Museum in New York, elucidates the overlap between these two canonical modernists.


PUBLISHER


L&M Arts

BOOK FORMAT
Hardcover, 9.5 x 11.5 in. / 180 pgs / illustrated throughout.

PUBLISHING STATUS
Pub Date 7/31/2010
Out of print

DISTRIBUTION
D.A.P. Exclusive
Catalog: FALL 2010 p. 103

PRODUCT DETAILS
ISBN 9780979094286 TRADE
List Price: $75.00 CDN $90.00

AVAILABILITY
Not available