Matt Saunders
Museum Exhibition Catalogues, Monographs, Artist's Projects, Curatorial Writings and Essays
MONOGRAPHS & CATALOGS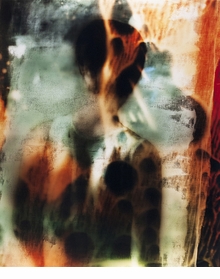 Matt Saunders: Poems of our Climate
DANCING FOXES PRESS
Drawing on avant-garde cinema and found photographs, Saunders' multimedia works explore the mobility and affective power of images
Hbk, 7.5 x 10.5 in. / 192 pgs / 140 color. | 7/19/2022 | In stock
$35.00
Published by Dancing Foxes Press.
Edited by Deirdre O'Dwyer. Text by Anthony Byrt, Mathew Hale, Hannah Klemm, Miranda Lichtenstein, Jennifer L. Roberts, Matt Saunders.
This publication encompasses eight years of work by Cambridge, MA- and Berlin-based artist Matt Saunders (born 1975), who engages painting as a time-based medium through cameraless photography, animation, and innovative painting and printmaking processes. Best known for his haunting portraits and landscapes (using imagery culled from avant-garde cinema and found photographs) and moving-image works, Saunders uses analog materials to explore the affective power of images.
Focusing on his experimentation with color processes, the stunning reproductions in this volume range from his first color film, Century Rolls (2012), to his more recent large-scale video installations. Moving image folds together with painting, photography and print, enlivening our relationship to images and their capacity for uncanny returns, echoes and ghosts.
BOOK FORMAT
Hardcover, 7.5 x 10.5 in. / 192 pgs / 140 color.
PUBLISHING STATUS
Pub Date 7/19/2022
Active
DISTRIBUTION
D.A.P. Exclusive
Catalog: FALL 2021 p. 135
PRODUCT DETAILS
ISBN 9781733688987 TRADE
List Price: $35.00 CDN $47.00 GBP £28.00
AVAILABILITY
In stock
Free Shipping
UPS GROUND IN THE CONTINENTAL U.S.
FOR CONSUMER ONLINE ORDERS