Roman Opalka
Museum Exhibition Catalogues, Monographs, Artist's Projects, Curatorial Writings and Essays
MONOGRAPHS & CATALOGS
Opalka
DIS VOIR
Paperback, 6.25 x 8.25 in. / 128 pgs / 16 color. | 12/2/1996 | Out of stock
$27.50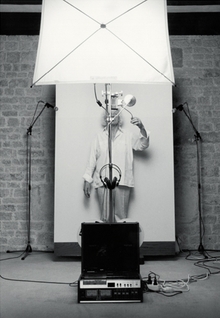 Roman Opalka: Painting
DOMINIQUE LéVY
Hbk, 9.5 x 13.5 in. / 156 pgs / 49 color / 24 duotone. | 7/26/2016 | In stock
$45.00
Published by Dominique Lévy.
Text by François Barré, Lóránd Hegyi, Jacques Roubaud, Charles Wylie.
Painting provides an overview of Roman Opalka's (1931–2011) career, spanning more than five decades. In 1965, Opalka began a project that would occupy the entirity of his career, titled 1965/1—[Infinity]. Each painting comprises rows of tiny numbers that progress sequentially from one canvas to the next.


BOOK FORMAT
Hardcover, 9.5 x 13.5 in. / 156 pgs / 49 color / 24 duotone.
PUBLISHING STATUS
Pub Date 7/26/2016
Active
DISTRIBUTION
D.A.P. Exclusive
Catalog: FALL 2016 p. 102
PRODUCT DETAILS
ISBN 9780986060618 TRADE
List Price: $45.00 CDN $60.00 GBP £40.00
AVAILABILITY
In stock
Free Shipping
UPS GROUND IN THE CONTINENTAL U.S.
FOR CONSUMER ONLINE ORDERS
Published by Dis Voir.
By Jacques Roubaud. Contributions by Bernard Noel, Denys Riout.
This monograph investigates Opalka's relationship with numbers, time and infinity, including an original long-term interview of the artist which ran on for more than twenty years.
In 1965 Roman Opalka started to represent time (his own and the world's) by painting numbers on canvas. Beginning with the number 1 and continuing through 2, 3, 4, 5, and so on, he had reached the almost unimaginable figure of 5 million before his death in 2011. Opalka had chosen to come directly to grips with time and death, for a lifetime. Yet his program, though irreducibly singular, is not ineffable. This volume explores the ethical and aesthetical dimensions of Opalka's project and presents him as one of the major artists of the late twentieth century.
BOOK FORMAT
Paperback, 6.25 x 8.25 in. / 128 pgs / 16 color.
PUBLISHING STATUS
Pub Date 12/2/1996
Active
DISTRIBUTION
D.A.P. Exclusive
Catalog: FALL 1996
PRODUCT DETAILS
ISBN 9782906571570 TRADE
List Price: $27.50 CDN $37.50 GBP £20.00
AVAILABILITY
Out of stock
STATUS: Out of stock
Temporarily out of stock pending additional inventory.