Troy Montes-Michie
Museum Exhibition Catalogues, Monographs, Artist's Projects, Curatorial Writings and Essays
MONOGRAPHS & CATALOGS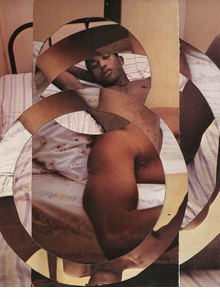 Troy Montes-Michie: Rock of Eye
SIGLIO/RIVERS INSTITUTE/CAAM
Stitches and sutures: tracing the body and landscape in Troy Montes-Michie's collages
Hbk, 8.5 x 11.5 in. / 128 pgs / 80 color. | 12/7/2021 | In stock
$45.00
Published by SIGLIO/RIVERS INSTITUTE/CAAM.
Text by Andrea Andersson, Tina Campt. Interview by Brent Edwards. Afterword by Cameron Shaw.
To tailor a garment by "rock of eye" is to rely on the drape—on experience over mathematical measurement—in the fitting process. It is a kind of drawing in space—a freehand, an intuition, a trust of materials. Rock of Eye, published on the occasion of Troy Montes-Michie's (born 1985) solo exhibition at the California African American Museum, is a collection of the artist's collages, drawings, and found and woven images sourced from vintage erotic magazines, French tailoring magazines, found photographs and other materials. These materials are familiar from Montes-Michie's recent large-scale paintings and collages that center on the Black male body and his series that traces the social history and form of the zoot suit. Troy Montes-Michie was born in El Paso and his practice reflects his experience growing up along the US/Mexico border. This book is a study in ambiguity between portraiture and landscape; his are the cuts and folds of patterning and mapping. In Rock of Eye, Montes-Michie's stitches suture histories and geographies; they establish thresholds for crossing; his needle hits rock. Including essays by Tina Campt and editor Andrea Andersson, with an interview by Brent Edwards, Rock of Eye is a tactile and sensuous artist's book recalling the form of fabric swatch books and affirming that collage is an art of selection.
BOOK FORMAT
Hardcover, 8.5 x 11.5 in. / 128 pgs / 80 color.
PUBLISHING STATUS
Pub Date 12/7/2021
Active
DISTRIBUTION
D.A.P. Exclusive
Catalog: FALL 2021 p. 109
PRODUCT DETAILS
ISBN 9781938221323 TRADE
List Price: $45.00 CDN $61.00 GBP £35.00
AVAILABILITY
In stock
Free Shipping
UPS GROUND IN THE CONTINENTAL U.S.
FOR CONSUMER ONLINE ORDERS