Do Ho Suh
Museum Exhibition Catalogues, Monographs, Artist's Projects, Curatorial Writings and Essays
MONOGRAPHS & CATALOGS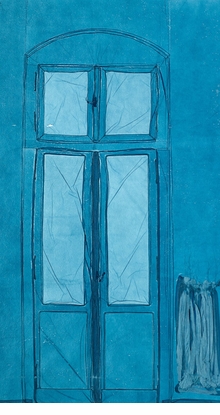 Do Ho Suh: Works on Paper at STPI
DELMONICO BOOKS/STPI
Discover how the renowned Korean-born artist Do Ho Suh translates his architectural works into sublime two-dimensional compositions
Hbk, 11.5 x 15.5 in. / 280 pgs / 320 color. | 6/1/2021 | In stock
$95.00
Published by DelMonico Books/STPI.
Text by Martin Coomer, Allegra Pesenti, Sarah Suzuki, Do Ho Suh.
A sculptor and installation artist, Korean-born Do Ho Suh (born 1962) is best known for his full-scale fabric works in which he meticulously reimagines the architectural space of his past homes and studios. Since collaborating with Singapore's STPI – Creative Workshop & Gallery in 2009, Suh has turned to print and paper as a new medium to channel and recreate these forms. The resulting Thread Drawings, developed using an innovative technique that employs thread as a sculptural material on handmade paper, represent an important breakthrough in Suh's repertoire. The artist's Gelatine Drawings extend from this technical approach to capture a range of dimensional domestic structures, objects and in-between spaces flattened on a single plane, rendered spectral, foldable and mobile. This book also documents Suh's pastel rubbings of interior spaces and everyday objects that disclose and memorialize details of his surroundings, as well as etchings, lithographic prints and cyanotypes.
BOOK FORMAT
Hardcover, 11.5 x 15.5 in. / 280 pgs / 320 color.
PUBLISHING STATUS
Pub Date 6/1/2021
Active
DISTRIBUTION
D.A.P. Exclusive
Catalog: SPRING 2021 p. 109
PRODUCT DETAILS
ISBN 9781942884866 TRADE
List Price: $95.00 CDN $133.00 GBP £84.00
AVAILABILITY
In stock
Free Shipping
UPS GROUND IN THE CONTINENTAL U.S.
FOR CONSUMER ONLINE ORDERS