Figgis Genieve
Museum Exhibition Catalogues, Monographs, Artist's Projects, Curatorial Writings and Essays
MONOGRAPHS & CATALOGS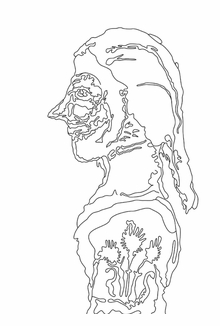 Genieve Figgis: Something for Lovers
KARMA, NEW YORK
Hbk, 6 x 8.5 in. / 80 pgs / 34 color / 34 bw. | 2/28/2017 | In stock
$30.00
Published by Karma, New York.

From Irish painter Genieve Figgis (born 1972) comes a book-object that is both exquisite and utilitarian, nostalgic and new. Wrapped in plush suede of deep violet, Something for Lovers compiles 34 of Figgis' paintings into a compact coloring book. The works' dreamlike aspect and romantic yet, at times, banal subject matter—Victorian landscapes, tender portraits and passionate embraces—makes for images begging creative reinterpretation.

Published by Karma to coincide with the opening of Figgis' exhibition at New York's Gallery Met, at the Metropolitan Opera, Something for Lovers lets you reimagine Figgis' seductive paintings, inviting you to infuse each artwork with colors befitting your surroundings. All 34 paintings are reproduced in color in the back of the publication.


BOOK FORMAT
Hardcover, 6 x 8.5 in. / 80 pgs / 34 color / 34 bw.
PUBLISHING STATUS
Pub Date 2/28/2017
Active
DISTRIBUTION
D.A.P. Exclusive
Catalog: SPRING 2017 p. 116
PRODUCT DETAILS
ISBN 9781942607564 TRADE
List Price: $30.00 CDN $40.00 GBP £27.00
AVAILABILITY
In stock
Free Shipping
UPS GROUND IN THE CONTINENTAL U.S.
FOR CONSUMER ONLINE ORDERS