Dexter Dalwood
Museum Exhibition Catalogues, Monographs, Artist's Projects, Curatorial Writings and Essays
"In France, I visited Michel de Montaigne's house, and the tower where he had worked. The extraordinary thing about it is that while it is a beautiful place, the room is in some way very disappointing. The place where he wrote is very ordinary of course, a simple room. It only becomes special because of the fact of his working there, so your imagination becomes more important than the reality. I became interested in that tension, that slippage, in creating a space for both myself and the viewer project into."

Dexter Dalwood in conversation with Martin Clark, excerpted from Dexter Dalwood.
MONOGRAPHS & CATALOGS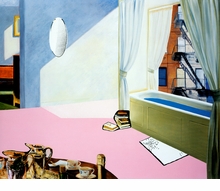 Dexter Dalwood
JRP|RINGIER
Pbk, 9.5 x 11.25 in. / 160 pgs / 100 color. | 9/30/2010 | In stock
$55.00
Dexter Dalwood
MODERNE KUNST NüRNBERG
Hbk, 8 x 9.75 in. / 80 pgs / 50 color. | 9/30/2013 | In stock
$40.00
Published by Moderne Kunst Nürnberg.
Edited by Felicity Lunn. Text by Felicity Lunn, Michael Archer.
The history paintings of Dexter Dalwood (born 1960) mix periods and styles, as he explores recent history and culture while quoting from works by artists as different as Sigmar Polke and Caspar David Friedrich. Dalwood often creates speculative depictions of historically significant locales, from the celebrity-driven--Michael Jackson's Neverland ranch, the greenhouse where Kurt Cobain's body was found, the site of Sharon Tate's murder--to the literary, as in Ezra Pound's Venice or Rimbaud's Africa. Dalwood also delights in contrasting two seemingly contradictory styles within the same painting, a supreme example of which is his portrait of Claudia Schiffer, in which a blonde woman gazing into a hand mirror, rendered precisely in the cartoon style of Roy Lichtenstein, is reflected back as a de Kooning "Woman" painting. This volume accompanies Dalwood's exhibition at the Kunsthaus CentrePasquArt in Switzerland.


BOOK FORMAT
Hardcover, 8 x 9.75 in. / 80 pgs / 50 color.
PUBLISHING STATUS
Pub Date 9/30/2013
Active
DISTRIBUTION
D.A.P. Exclusive
Catalog: FALL 2013 p. 139
PRODUCT DETAILS
ISBN 9783869844268 TRADE
List Price: $40.00 CDN $54.00
AVAILABILITY
In stock
Free Shipping
UPS GROUND IN THE CONTINENTAL U.S.
FOR CONSUMER ONLINE ORDERS
Published by JRP|Ringier.
Edited by Florence Derieux. Text by Michael Bracewell, Martin Clark, Terry R. Myers.
Michael Jackson's Neverland ranch; Camp David; the greenhouse where Kurt Cobain's body was found; Sharon Tate's house; Jackie Onassis' yacht. If these secluded, celebrity-drenched sites, thick with the magic of fame, are among the defining locales of these times, then British artist Dexter Dalwood (born 1960) is the history painter of our era. His bold, busy canvases usually begin their lives as small collages, literally cut and pasted from the pages of magazines and art history. In the subsequent large-scale works, the abrupt disjunctions remain, repurposing the genre of history painting to express the complex nature of iconicity in our age. With 100 color images, this volume provides a first overview of this major artist's work, including paintings and collages made over the last 12 years. Essays by Michael Bracewell and Terry R. Meyers, and an extensive interview with the artist by Martin Clark and Florence Derieux, complete the book.


BOOK FORMAT
Paperback, 9.5 x 11.25 in. / 160 pgs / 100 color.
PUBLISHING STATUS
Pub Date 9/30/2010
Active
DISTRIBUTION
D.A.P. Exclusive
Catalog: FALL 2010 p. 153
PRODUCT DETAILS
ISBN 9783037641262 TRADE
List Price: $55.00 CDN $72.50
AVAILABILITY
In stock
Free Shipping
UPS GROUND IN THE CONTINENTAL U.S.
FOR CONSUMER ONLINE ORDERS