Cana Bilir-Meier
Museum Exhibition Catalogues, Monographs, Artist's Projects, Curatorial Writings and Essays
MONOGRAPHS & CATALOGS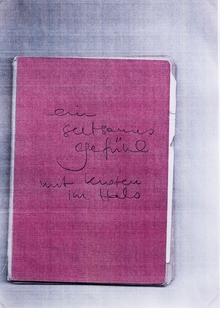 Cana Bilir-Meier: Düsler Ülkesi
SPECTOR BOOKS
Untold migrant stories, gathered from archives by German artist Cana Bilir-Meier
Pbk, 8.25 x 10.75 in. / 200 pgs / 20 color / 200 bw. | 2/23/2021 | In stock
$30.00
Published by Spector Books.
Edited by Bettina Steinbrügge, Tobias Peper. Text by Cana Bilir-Meier, Burcu Dogramaci, et al.
Munich-based filmmaker and artist Cana Bilir-Meier (born 1986) draws on public and private archives to speak to the migrant experience through film, drawing, performance and audio. Bilir-Meier's first monograph is published for her exhibition at the Kunstverein Hamburg.
BOOK FORMAT
Paperback, 8.25 x 10.75 in. / 200 pgs / 20 color / 200 bw.
PUBLISHING STATUS
Pub Date 2/23/2021
Active
DISTRIBUTION
D.A.P. Exclusive
Catalog: SPRING 2021 p. 148
PRODUCT DETAILS
ISBN 9783959053426 FLAT40
List Price: $30.00 CDN $40.00
AVAILABILITY
In stock
Free Shipping
UPS GROUND IN THE CONTINENTAL U.S.
FOR CONSUMER ONLINE ORDERS