Ellie Ga
Museum Exhibition Catalogues, Monographs, Artist's Projects, Curatorial Writings and Essays
MONOGRAPHS & CATALOGS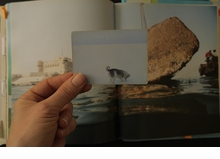 Ellie Ga: Square Octagon Circle
SIGLIO
Pbk, 8.25 x 9 in. / 224 pgs / 120 color. | 9/25/2018 | In stock
$36.00
Ellie Ga: North Was Here
UGLY DUCKLING PRESSE
Pbk, 5.25 x 7.5 in. / 96 pgs / 48 color / 3 duotone / 32 bw. | 11/20/2018 | In stock
$25.00
Published by Siglio.

In the murky waters of the Mediterranean lie the ruins of Alexandria's fabled lighthouse, a wonder of the ancient world destroyed by earthquakes in the Middle Ages. While mapped by archeologists, most of these 2,000 stone remnants will never be retrieved and reconstructed: the Pharos Lighthouse can only be inferred. But above the surface, the lighthouse is ubiquitous in the modern city, its image wholly imagined, with little resemblance to the stones at the bottom of the sea.
In a richly braided, intimately told narrative of text and image, New York–born artist and writer Ellie Ga (born 1976) takes the reader with her on dive boats and into the water, behind the walls of hidden museums, through city streets pasted with political graffiti, into the offices of archeologists and the homes of Alexandrians—just as Egypt is on the cusp of its first post-revolution election. Ga's investigations into the lighthouse chart the charged spaces between the historical and mythological, between the translated and untranslatable, between the unearthing of memory, the circumscription of the past and the potential of the present. Ga's subject is ostensibly the Pharos Lighthouse, but her own gorgeously constructed palimpsests reveal a multitude of possible truths: Square Octagon Circle becomes a prism through which to see the nature of the unknown.
BOOK FORMAT
Paperback, 8.25 x 9 in. / 224 pgs / 120 color.
PUBLISHING STATUS
Pub Date 9/25/2018
Active
DISTRIBUTION
D.A.P. Exclusive
Catalog: SPRING 2018 p. 113
PRODUCT DETAILS
ISBN 9781938221187 TRADE
List Price: $36.00 CDN $47.50 GBP £32.00
AVAILABILITY
In stock
Free Shipping
UPS GROUND IN THE CONTINENTAL U.S.
FOR CONSUMER ONLINE ORDERS
Published by Ugly Duckling Presse.

After a 2006 residency at the Explorers Club in New York, artist and writer Ellie Ga (born 1976) became the sole artist-in-residence aboard The Tara––a research vessel lodged in the ice of the Arctic Ocean, and the second boat in history built to drift indefinitely in pack ice, where it collected scientific data on Arctic ice conditions. From this extraordinary adventure arose Ga's acclaimed performance lecture The Fortunetellers, which she has delivered at the Kitchen, the Guggenheim Museum and the New Museum, among other venues.
North Was Here is the first publication based on Ga's polar residency. It includes three arctic booklets made during the continuous polar night as the boat was drifting, as well as a new piece that juxtaposes Polaroids and documentary footage stills that the artist used for a related video piece, At the Beginning North Was Here.
PUBLISHER


Ugly Duckling Presse

BOOK FORMAT
Paperback, 5.25 x 7.5 in. / 96 pgs / 48 color / 3 duotone / 32 bw.

PUBLISHING STATUS
Pub Date 11/20/2018
Active

DISTRIBUTION
D.A.P. Exclusive
Catalog: FALL 2018 p. 154

PRODUCT DETAILS
ISBN 9781946433145 TRADE
List Price: $25.00 CDN $34.50 GBP £22.00

AVAILABILITY
In stock

Free Shipping

UPS GROUND IN THE CONTINENTAL U.S.
FOR CONSUMER ONLINE ORDERS