Giacomo Balla
Museum Exhibition Catalogues, Monographs, Artist's Projects, Curatorial Writings and Essays
MONOGRAPHS & CATALOGS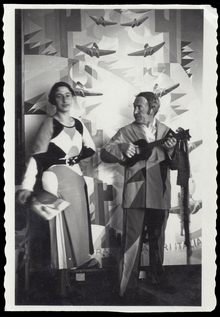 Giacomo Balla: Casa Balla
MARSILIO EDITORI
A tour through the dazzling Futurist Gesamtkunstwerk that was Giacomo Balla's home and creative laboratory
Hbk, 6.75 x 9.5 in. / 224 pgs / 100 color. | 1/4/2022 | In stock
$49.95
Futurballa
SKIRA
Hbk, 10 x 11.5 in. / 232 pgs / 216 color. | 10/24/2017 | In stock
$45.00
From the House to the Universe and Back Again
Published by Marsilio Editori.
Edited by Domitilla Dardi, Bartolomeo Pietromarchi. Text by Emanuele Trevi, Elena Gigli, Fabio Benzi, Eleonora Farina, Eleonora D'Alessandro. Photographs by Beka & Lemoine.
Recently opened to the public for the first time, the home of the Futurist artist Giacomo Balla (1871–1958) is depicted and inventoried in this extraordinary book. The apartment in Rome in which Balla lived with his family for over 30 years was covered with lively murals, painted furniture, decorated utensils and clothes, as well as preparatory drawings, stage designs, toys and other works by the artist, together with paintings by his two daughters Luce and Elica. The numerous paintings by Balla kept in the apartment range from his early figurative period to the Futurist aesthetics of the 1910s and '20s and a return to representation in the latter part of his life. Together they create a kaleidoscopic example of total design, reflecting the indissoluble link between art and life that lay at the root of Futurist thinking.
BOOK FORMAT
Hardcover, 6.75 x 9.5 in. / 224 pgs / 100 color.
PUBLISHING STATUS
Pub Date 1/4/2022
Active
DISTRIBUTION
D.A.P. Exclusive
Catalog: FALL 2021 p. 142
PRODUCT DETAILS
ISBN 9788829709809 TRADE
List Price: $49.95 CDN $67.95 GBP £40.00
AVAILABILITY
In stock
Free Shipping
UPS GROUND IN THE CONTINENTAL U.S.
FOR CONSUMER ONLINE ORDERS
Life Light Speed
Published by Skira.
By Ester Coen.
Fuled by a spirit of solidarity with the world of outcasts, Giacomo Balla learned his trade in Turin and reflected the cruel, painful reality of society's underclass with a penetrating, human eye.
Parallel to the themes of suffering and alienation, the artist developed an original style of the utmost technical sensitivity rooted in the Divisionist schools of Piedmont region. It is this brushwork with its wealth of glowing streaks, bold contrasts of light and dark, and daring perspective that constituted a unique and extraordinary model for the Futurist generation.
In the second, Balla embraced the poetics of Futurism and addressed the themes of modernity in the chromatic synthesis of individual elements of light visible in the Iridescent Interpenetrations. This was followed in the third by exploration of the new dynamic reality with his Lines of Speed.
In a gradual progress towards pure mathematical, vertical, diagonal and spiral signs, Balla discovered new categories of representation in its primary parameters, in the amplification of the physical phenomenon, isolated and dissected in its reality as vibratile matter. A vision that plumbed the greatest depths in order to transcend the limits of the frame in an ever-greater response to life, the ultimate signal of a universal force whose power reverberates in the "voices of nature".
BOOK FORMAT
Hardcover, 10 x 11.5 in. / 232 pgs / 216 color.
PUBLISHING STATUS
Pub Date 10/24/2017
Active
DISTRIBUTION
D.A.P. Exclusive
Catalog: Publisher Backlist
PRODUCT DETAILS
ISBN 9788857233864 TRADE
List Price: $45.00 CDN $57.50
AVAILABILITY
In stock
Free Shipping
UPS GROUND IN THE CONTINENTAL U.S.
FOR CONSUMER ONLINE ORDERS