BOOK FORMAT
Hardcover, 11.25 x 13 in. / 212 pgs / 80 color.
PUBLISHING STATUS
Pub Date 4/24/2018
Active
DISTRIBUTION
D.A.P. Exclusive
Catalog: FALL 2017 p. 111
PRODUCT DETAILS
ISBN 9781942185253 TRADE
List Price: $65.00 CDN $87.00 GBP £57.00
AVAILABILITY
In stock
DOWNLOAD THE SPRING 2023 CATALOG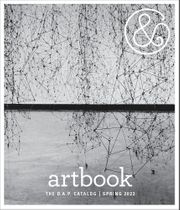 Preview our Spring 2023 catalog, featuring more than 500 new books on art, photography, design, architecture, film, music and visual culture.
The story of water in the West, climate change, and the birth of modern environmentalism told through the history of Glen Canyon on the Colorado River.

ABOUT THE BOOK: 1963 construction of the Glen Canyon Dam and the resulting flooding and destruction of the red-rock canyon along the Arizona Utah border became a catalysis for the modern environmentalist movement.Using as their starting point photographer Eliot Porter's ode to the lost River The Place No One Knew: Glen Canyon on the Colorado, the authors use archival images & documents and contemporary photographs & text to show "the madness of the past and the terror of the future"ť.
ABOUT THE AUTHOR: Writer & Activist REBECCA SOLNIT is the author of 17 books, including Men Explain Things to Me and The Mother of All Questions. She lives in San Francisco.
ABOUT THE ARTISTS: Photographer Mark Klett lives in Tempe, Arizona, teaches at Arizona State University. Prior books include Mark Klett: Saguaros and Mark Klett: Camino del Diablo. Photographer Byron Wolfe teaches at the Tyler School of Art at Temple University in Philadelphia.
&nbsp
&nbsp
Drowned River

The Death and Rebirth of Glen Canyon on the Colorado

Photographs by Mark Klett, Byron Wolfe. Text by Rebecca Solnit.


In 1963 the waters began rising behind Glen Canyon Dam and 170 miles of the Colorado River slowly disappeared as the riverbed and surrounding canyons filled with water. Environmentalists considered it a disaster and mourned Glen Canyon as gone forever. The Sierra Club joined forces with photographer Eliot Porter to document what would be lost under the dam's waters, resulting in the publication of the landmark 1963 photobook The Place No One Knew: Glen Canyon on the Colorado.

But in an unexpected victory that speaks to the pervasive disaster of climate change, the reservoir is now declining and the Colorado River is coming back. Photographers Byron Wolfe (born 1967) and Mark Klett (born 1952), along with writer Rebecca Solnit (born 1961), spent five years exploring the place as expectations and possibilities changed, and the river reemerged at the upper end of the reservoir.

In dialogue with Porter's book, Klett and Wolfe retraced the physical locations where Porter made his photographs, now often submerged by the reservoir's waters. Solnit's accompanying text meditates on the meanings and histories of the place, drawing from both the trio's explorations and archival research.

Drowned River is a book about climate change, about "the madness of the past and the terror of the future" (as Solnit puts it). But it is also a book about how photography can describe beauty and trouble simultaneously, and what it takes to understand a place and to come to terms with the changes we have set in motion.




PRAISE AND REVIEWS

PDN's Notable Photo Books of 2018

Porter's images brought attention to the place, and galvanized the Sierra Club and the growing environmental movement's opposition to similar projects in the future.

Free Shipping

UPS GROUND IN THE CONTINENTAL U.S.
FOR CONSUMER ONLINE ORDERS

STEIDL/THE GORDON PARKS FOUNDATION

ISBN: 9783969990957
USD $50.00

| CAN $70

Pub Date: 3/14/2023
Active | In stock




ARCHIVE OF MODERN CONFLICT/MöREL

ISBN: 9781907071904
USD $50.00

| CAN $70

UK &pound 44

Pub Date: 12/13/2022
Active | In stock




STEIDL

ISBN: 9783969991428
USD $65.00

| CAN $90

Pub Date: 2/20/2024
Forthcoming




DAMIANI

ISBN: 9788862087933
USD $59.95

| CAN $83.95

Pub Date: 5/16/2023
Forthcoming




STEIDL/THE WALTHER COLLECTION

ISBN: 9783969990872
USD $45.00

| CAN $63

Pub Date: 1/17/2023
Active | In stock




SKIRA

ISBN: 9788857248578
USD $60.00

| CAN $84

Pub Date: 4/25/2023
Forthcoming




HATJE CANTZ

ISBN: 9783775754330
USD $39.95

| CAN $55.95

Pub Date: 6/20/2023
Forthcoming




KERBER

ISBN: 9783735608529
USD $180.00

| CAN $252

Pub Date: 5/23/2023
Forthcoming




SPECTOR BOOKS

ISBN: 9783959056311
USD $40.00

| CAN $56

Pub Date: 8/8/2023
Forthcoming




RM/EDICIONES LARIVIERE

ISBN: 9788419233332
USD $60.00

| CAN $84

Pub Date: 2/28/2023
Active | In stock




HATJE CANTZ

ISBN: 9783775754330
USD $39.95

| CAN $55.95

Pub Date: 6/20/2023
Forthcoming




FORLAGET PRESS

ISBN: 9788232804450
USD $50.00

| CAN $70

UK &pound 43

Pub Date: 7/4/2023
Forthcoming